Will Pitt — President & CEO
Will has over 25 years of experience leading science and conservation efforts around the world. He is passionate about environmental conservation and creating opportunities where all people benefit from conservation action. Previously, he was the Deputy Director at the Smithsonian Conservation Biology Institute leading science, education, and conservation programs, as well as administration and operations. He developed creative solutions to reduce the impact of invasive species across the Pacific Basin for the USDA's National Wildlife Research Center in Hawaii. As a researcher, he focused on restoration of ecosystems, reducing the impact of invasive species, and training the next generation throughout his career. He has published more than 90 peer-reviewed articles and books.  He earned both a Ph.D. in Ecology and a M.S. in Wildlife Ecology from Utah State University. He received his B.S. in Fish and Wildlife biology from the University of Minnesota.  He enjoys spending time with his family, exploring natural areas, handicraft, and fishing.
Phone: (828) 281-0047 x1109
Email: will.pitt@acf.org
Hal Brindley — Website Administrator
Hal joined TACF in 2023 after completing a Conservation Biology MSc at the University of Cape Town in South Africa where he studied black-footed cats. In his younger years, Hal owned several extreme sports clothing brands before transitioning to wildlife photography and freelance web design. His conservation writing, photography, illustrations, graphic design, and video work have since appeared in magazines, newspapers, books, websites, and television shows around the world. He and his wife have lived in Asheville since 2010 and when not traveling they love to restore native plants in their yard to support wildlife.
Phone: (828) 281-0047 x1113
Email: hal.brindley@acf.org
Lesley Heiser — Grants Manager
Lesley has a strong and versatile background of more than 20 years in grants, fundraising, communications, and strategic planning.  She started out her career as a writer at Johns Hopkins University. She most recently led development and communications at Cultivating Community of Maine, an organization working to improve the food system. In Maine, Lesley was a member of the Network Leadership Institute of Food Solutions New England at the University of New Hampshire and taught logic modeling/theories of change to USDA grantees working on community food projects. She has published fiction, nonfiction, and poetry, edited at literary magazines, and won two Maine Literary Awards.
Phone: (828) 281-0047 x1103
Email: lesley.heiser@acf.org
Shaomin Li — Controller
Shaomin moved to the United States in 1998, after spending her childhood in Guangzhou, China. She graduated from UNC-Asheville with a B.S. in Accounting, then achieved her goal to become a Certified Public Accountant (CPA) nine years after moving to the U.S. — one full year earlier than her targeted timeline. During the subsequent 18 years of her career, she has worked in governmental and nonprofit organizations in Asheville and Washington D.C.
Shaomin enjoys spending time with her family, gardening, and meeting up with friends on Saturdays. She is especially excited to work on behalf of the American chestnut because the chestnut is her favorite nut. Her family competes with squirrels to collect chestnuts from the 50-year old tree in their yard each Fall. Sometimes, they even win! 
Phone: (828) 281-0047 x1112
Email: shaomin.li@acf.org
Cara Parker — Office Administrator
Cara joins TACF with 20+ years of experience in small business management, primarily as an innkeeper on the Outer Banks and in Asheville. She specializes in the creation and improvement of operations processes and procedures and small business marketing. In 2022, she completed a B.S. in Political Science with a concentration in American Politics at Appalachian State University with the intention of transitioning to the nonprofit sector as a way to achieve meaningful work. Cara grew up in Ohio and Pennsylvania and has lived in Key West, Panama, and Central New York between stints in North Carolina. She looks forward to future travels with her family.
Phone: (828) 281-0047 x1101
Email: cara.parker@acf.org
Jen Picicci — Communications Coordinator
Jen joined TACF in 2023 after spending several years freelance writing, building her art business, and raising her daughter. She grew up in New England but has lived in the Asheville area since 2004; she loves the mountains and the terrific weather in WNC. She completed her undergraduate degree in Graphic Design at Eastern Connecticut State University and her Master's in Health Science at Western Carolina University. Her writing has been published on a variety of websites and print magazines, and her artwork has been sold to collectors around the world, including England and New Zealand. She and her family love to hike, garden, and travel.
Phone: (828) 281-0047 x1110
Email: jen.picicci@acf.org
Carrie Plaxco — Gifts and Records Specialist
Carrie comes to TACF with 15 years of experience working with data in higher education. She has a B.S. in Environmental Studies, and has completed coursework for a Masters in Conservation Biology. She is a self-proclaimed bird nerd, and has worked on research projects with Least Terns and Black Skimmers in both Florida and Brazil. In her free time she is an avid mountain biker and leads several group rides throughout Western North Carolina.
Phone: (828) 281-0047 x1104
Email: carrie.plaxco@acf.org
Susan Sertain — Membership and Office Assistant
Susan brings to TACF a variety of career experiences but all with the common denominator of valuable customer service. Everything from promoting her art work, theatre productions, cultivating real estate clients, to owning a rental/retail costume store, has involved relating to customers and clients in timely and welcoming ways.
She moved to Asheville in 1996, from Murphy NC, to complete her degree in Communication, and stayed because these mountain forests feel like home.
Her passion for textile art and redesigns runs parallel to that of saving, preserving and celebrating mature trees and all that they bring to our survival and sanity. Susan has worked as a volunteer with Asheville GreenWorks since 2018, reviving and developing the Treasured Tree program.
If you can't find her in Asheville, she is probably with her family on their land back up in a cove in Murphy, called Lichenwood.
Phone: (828) 281-0047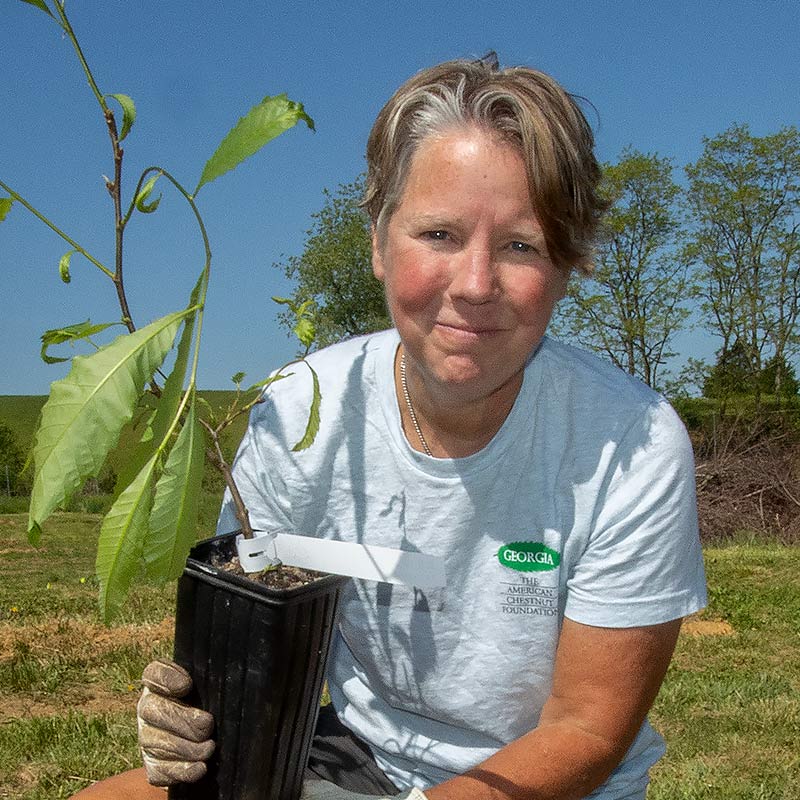 Jules Smith — Director of Communications
Though originally from eastern Tennessee, Jules moved to Asheville in 2010 from Cambridge, Massachusetts, where she was the Communications Associate at Episcopal Divinity School. Prior to accepting the job at TACF, she was the Webmaster and Communications Specialist at the Unitarian Universalist Congregation of Asheville. Before switching career paths, Jules worked as a videographer and editor in the television news industry. She loves living in Asheville because of its mountains, progressive values, farm-to-table eateries, and support of local businesses and nonprofits. Jules has a B.A. in Communication Arts with an emphasis in Television Broadcasting.
Phone:  (828) 281-0047 x1102
Email: jules.smith@acf.org
Mark Weaver — Director of Business Operations
Mark retired from the U.S. Army after 21 years in 2014. After retiring he followed his wife and children to Asheville, NC. In the years since his retirement, he has worked in retail management and as a District and Operations Manager in the security industry. Mark has 25+ years in leading, managing, and empowering people to form creative, collaborative, and successful teams. In his free time, he enjoys spending time with his wife of 28 years exploring Asheville and the surrounding outdoor areas, going to concerts and reconnecting with his hobbies that an extremely busy life has not always provided the time for.
Phone: (828) 281-0047 x1105
Email: mark.weaver@acf.org
Dr. Jared Westbrook — Director of Science
Jared joined TACF in January 2015 as the organization's new quantitative geneticist. Originally from Grand Rapids, Michigan, Jared earned a B.S. in Environmental Science from the University of Michigan, an M.S. in Botany, and a PhD in Plant Molecular and Cellular Biology from the University of Florida. His dissertation research studied the genetic enhancement of resin production in loblolly pine stems for use in liquid biofuels. Jared works extensively with the Meadowview Research Farms Laboratory and commutes from Asheville to take TACF's breeding program to the next level.
Phone:  (828) 281-0047 x1106
Email: jared.westbrook@acf.org
Barbara Wood — Membership Coordinator
A passion for nature and conservation drew Barbara to western North Carolina, after living in Atlanta for many years. Barb brings 15 years of nonprofit experience in donor cultivation, fundraising, and database management to her TACF role as Membership Coordinator. When she is not advocating for forest conservation and restoration, Barb enjoys spending time outdoors hiking, kayaking, and gardening.
Phone: (828) 281-0047 x1108
Email: barbara.wood@acf.org
Regional Outreach Coordinators
Hannah Leeper — Southern Regional Outreach Coordinator
Hannah joined TACF in 2023 shortly after moving to Asheville, NC. Her professional experience includes 10+ years working in outdoor education, event production, and operations in various locations such as Hawaii, Colorado, and Australia. She moved to Western North Carolina at the beginning of the pandemic and stayed for the unparalleled natural beauty and biodiversity. She has fostered her personal passion for conservation through volunteer work with tree plantings and invasive species eradication initiatives, including an on-site restoration in New Zealand, native eucalyptus data collection in Queensland, organic farming in Western North Carolina, and multiple events through her former participation in the Highlands Plateau chapter of the RotarACT Rotary sub-group. She holds a B.A. in Anthropology with a minor in Spanish and has personal interests in learning languages, playing music, and reading as many books as she can.
The Southern ROC serves Mid-Atlantic and Southern Regions minus West Virginia.
Phone: (828) 281-0047 x1118
Cell: (828) 220-1170
Email: hannah.leeper@acf.org
Catherine Martini — Northern Regional Outreach Coordinator
Catherine joined TACF in March 2023 as the Northern Regional Outreach Coordinator, covering chapters from Maine to West Virginia. She brings over 10 years of experience in horticulture, outreach and education, with experiences ranging from cooperative extension work to public gardens. Her main passion in each of these positions has been growing and restoring native areas – with a guilty pleasure for growing giant pumpkins and cut flowers, too. She is consistently energized by the enthusiasm of the amazing volunteers she's worked with in conservation and horticulture.
Originally from the Shawangunk mountains in Ulster County, NY, Catherine received her B.A. in Theatre from SUNY Geneseo and then her A.A. in Horticulture from Finger Lakes Community College in Canandaigua, NY. She spends most of her free time hiking with her partner and their dogs, gardening, or reading sci fi/fantasy novels.
The Northern ROC serves the New England and North Central Regions plus West Virginia.
Phone: (828) 220-1411
Email: catherine.martini@acf.org
Regional Science Coordinators
Kendra Collins — Director of Regional Programs, New England Regional Science Coordinator
Kendra joined TACF in 2008 as Regional Science Coordinator for the New England region, which includes the Connecticut, Massachusetts/Rhode Island, Maine, and Vermont/New Hampshire state chapters of TACF. She received a B.S. degree in Environmental Conservation Science from the University of New Hampshire and an M.S. in Natural Resources: Forestry from the University of Vermont. Her Masters research focused on American chestnut restoration, which led her to become involved with TACF and the formation of the VT/NH Chapter. Kendra worked previously with citizen scientists through New Hampshire's Volunteer Lake Assessment Program.
Phone: (802) 999-8706
Email: kendra.collins@acf.org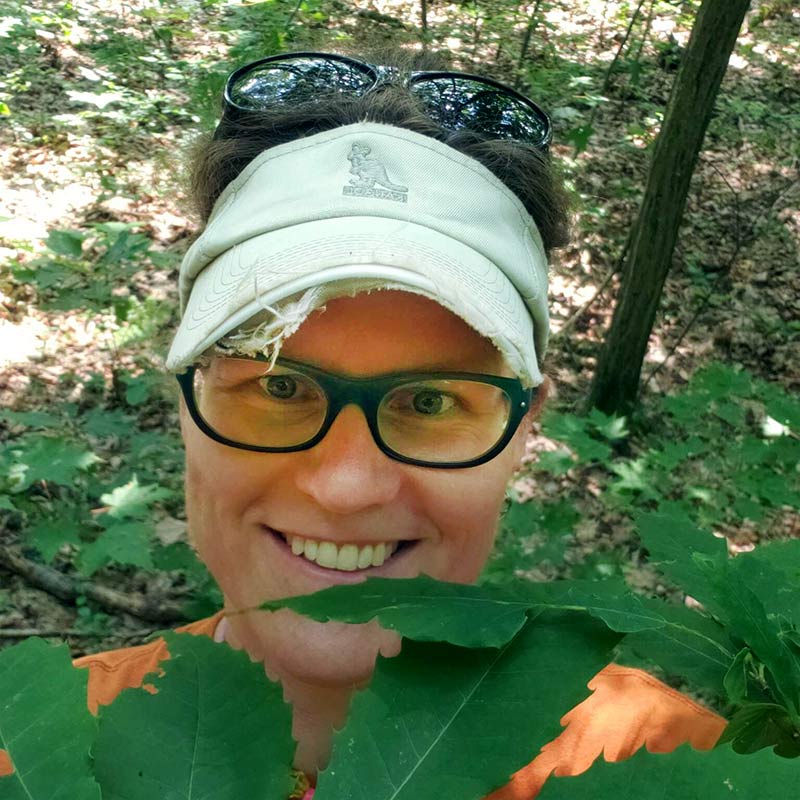 Sara Fitzsimmons — Chief Conservation Officer
Sara Fern Fitzsimmons has worked with The American Chestnut Foundation at Penn State University since 2003, assisting chestnut growers and researchers throughout the Appalachian Mountains. Born and raised in southern West Virginia (Hinton), Sara studied Biology at Drew University in Madison, New Jersey. She then received an M.S. in Forest Ecology and Resource Management from Duke University's Nicholas School. After a short stint as an editorial assistant at All About Beer Magazine, Sara returned to the forestry field where she has been ever since. Sara hopes her research and professional work will facilitate long-term conservation and restoration of native tree species at risk from exotic pests and diseases.
Phone: (814) 404-6013
Email: sara.fitzsimmons@acf.org
Stephen Hoy — North Central Regional Science Coordinator
Hoy has been with Penn State as the orchard manager for the Pennsylvania Chapter of TACF research orchards since 2014. Hoy previously worked for the US Forest Service on multiple fuels & fire crews, including two Type 1 hand crews. He holds a Degree in Forestry Technology from Penn State Mont Alto. Hoy enjoys all aspects of fieldwork and strives to create standardized processes to improve efficiency. He is a native of central Pennsylvania and when not working for the foundation, he can be found outside, working to revive an old mountain homestead with his family, including planting chestnuts. He hopes that one day these beautiful trees can reclaim their place in the forest of Pennsylvania.
Hoy serves the North Central region as Regional Science Coordinator, which consists of the Ohio, Pennsylvania/New Jersey,  New York, and Indiana state chapters of TACF.
Phone: (814) 863-7192
Email: stephen.hoy@acf.org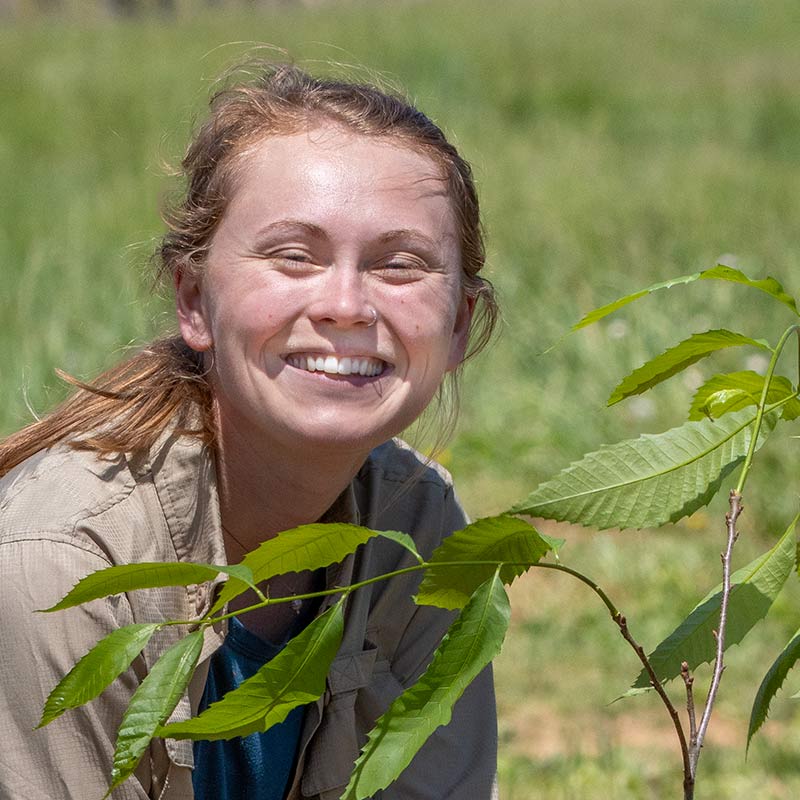 Cassie Stark — Mid-Atlantic Regional Science Coordinator
Cassie joined TACF in 2022 as the Laboratory Manager at Meadowview Research Farms and is now the Mid-Atlantic Regional Science Coordinator for the Kentucky, Maryland, Virgina, and West Virgina state chapters of TACF.
She is originally from Virginia and previously attended James Madison University (JMU). At JMU, Cassie studied the American chestnut tree; specifically, her research pertained to forest management strategies for increasing the success of hybrid chestnuts in the Appalachian cove. Following JMU, she attended Pennsylvania State University where she received an M.S. in Forest Resources and studied ramp/wild leek habitat to better understand the conservation and cultivation of ramps. She is passionate about both forest ecology and botany and is curently based in Charlotttesville, Virgina.
Phone: (804) 657-6247
Email: cassie.stark@acf.org
Jamie Van Clief — Southern Regional Science Coordinator
Jamie joined TACF full-time in 2021 as the Regional Science Coordinator for the Southern region that covers North Carolina/South Carolina, Georgia, Tennessee, and Alabama, and is based out of the national office in Asheville.
Jamie began her journey with TACF when she interned for the New England Science Coordinator for two seasons while completing her B.S. in both Forestry and Environmental Science from the University of Vermont. She then spent the next two years as an agriculture volunteer with Peace Corps Panama, where she supported a remote community's cacao and coffee farmers. After the successful completion of her service, she spent the next two years at the USDA as an International Program Specialist managing and coordinating large natural resource projects.
Phone: (828) 281 – 0047 x1109
Email: jamie.vanclief@acf.org
Meadowview Research Farms Staff
Lauren Kerwien — Laboratory Manager, Meadowview Research Farms
Lauren grew up in northern New Jersey (right where the Appalachian Mountains cross through the state) and attended the University of Vermont (UVM) to study Plant Biology, focusing on plant-microbe interactions.  After graduation, she worked as a project manager at the University's herbarium, helping to image the collection, and then as a laboratory manager at UVM and the University of Pittsburgh, studying plant-microbe interactions in agricultural and wild field settings.  In 2020, Lauren moved to Blacksburg, Virginia to start her MSLFS at Virginia Tech focusing on plant physiology before joining TACF in 2023 as the Laboratory Manager at Meadowview Research Farms.  Lauren is excited to use her botany, plant physiology, and microbiology skills to support American chestnut restoration.
Email: lauren.kerwien@acf.org
Dr. Vasiliy Lakoba — Director of Research, Meadowview Research Farms
Vasiliy joined TACF in June 2021 as Director of Research at Meadowview Research Farms. He works with science staff across TACF, the Science and Technology Committee, and external academic collaborators to design and implement breeding studies, orchard and forestry trials, and other basic and applied research.
His past work includes forest restoration at the Arboretum at Penn State and science policy with the Weed Science Society of America. Vasiliy holds a PhD in Plant Ecology from Virginia Tech, where he studied invasive species' interactions with land use and climate change. He serves on the Board of Directors of the North American Invasive Species Management Association and on the Town of Abingdon Tree Commission.
Phone: (276) 696-9142
Email: vasiliy.lakoba@acf.org
Dan Mckinnon — Director of Land Management, Meadowview Research Farms
Dan joined TACF in 2014 as Seed Orchard Supervisor at Meadowview Research Farms. He has a long history of agriculture and Appalachian forest work, ranging from trail conservation to forest management. As a local native from Marion, Virginia, much of his experience was acquired working in the mountains in the surrounding areas. His expertise covers farm and facilities maintenance, field crew training and supervision, with an emphasis on workplace safety, and coordinating volunteer groups.
Dan holds a degree from the Virginia Highlands Community College in Horticulture Technology and Landscape Management. He has held positions with the U.S. Forest Service, Virginia Department of Conservation and Recreation, Virginia Department of Game and Inland Fisheries, The Appalachian Trail Conservancy, and the U.S. Marine Corps.
Phone: (276) 525-2489
Email: dan.mckinnon@acf.org
James E. Tolton — Maintenance Technician, Meadowview Research Farms
Jim joined TACF in April 2017 after retiring from Ball Corporation where he was employed for more than 30 years as a line technician. Prior to Ball, Jim was employed at Cape Hatteras National Seashore for 4 years as a lifeguard/park technician. After that, he served as a recreational forester for the U.S. Forest Service in Colorado. Jim has a B..S in Recreation from Radford University. Jim has a B..S in Recreation from Radford University.
Being an avid outdoorsman and having an enduring love for nature and its sustainability, Jim joined TACF in Meadowview, Virginia where he assists staff at Meadowview Research Farms in developing blight-tolerant American chestnut trees. Jim aids in maintaining the farm through equipment operation and maintenance, seed and pollen collection, and processing. He enjoys his role as an advocate for American chestnut restoration and believes in the ecological benefits it will bring to an entire ecosystem.
Phone: (276) 791-8180
Email: jim.tolton@acf.org
Ciera Wilbur — Nursery Manager, Meadowview Research Farms
Ciera grew up in California where they gained love and respect for the natural world. Growing up in the California foothills, a story about American chestnut breeding inspired them to pursue their passion for the environment as a career. A graduate of Cal Poly Humboldt, Ciera has been following this passion ever since, including working to restore endangered species habitat, natural interpretation, and recycling/compost diversion in the San Francisco Bay Area before moving to Virginia in 2020.
Since arriving in the Commonwealth, Ciera has worked with landowners to implement agroforestry techniques, specifically forest farming with a focus on Appalachian forest botanical species, and experienced the new industry of commercial cannabis production. She now draws from her past experience and passion for growing and for native plants as the Nursery Manager at Meadowview Research Farms, eager to continue the mission of eastern hardwood forest restoration with the great American chestnut.
Email: ciera.wilbur@acf.org