On May 18 the VT/NH Chapter took another step in its strategy to build a team of trained pollinators who will be ready to act following deregulation of the Darling-58 transgenic American chestnut tree. The Beaver Brook Association (BBA) in Hollis, NH hosted a combined Orchard Data Collection and Pollination Training workshop.

New England Regional Science Coordinator, Kendra Colins and UVM student intern, Russel Gomory, first instructed the 19 volunteers who attended how to collect data for each tree in the orchard. The orchard at BBA is a Progeny Test Orchard containing a variety chestnut species and hybrids. Kendra is pictured below demonstrating how to identify and record signs of flowering. Other information recorded included tree height and stem diameter, condition of blight (if present) and tree health. The volunteers worked efficiently in teams of three and were able to assess the condition all 111 trees in the orchard.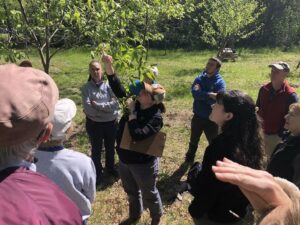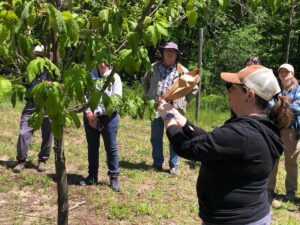 Following data collection Kendra demonstrated the controlled pollination process. The group will meet again June to locate flowers and bag them in preparation for pollination in late June or early July.