Black Hill Regional Park Orchard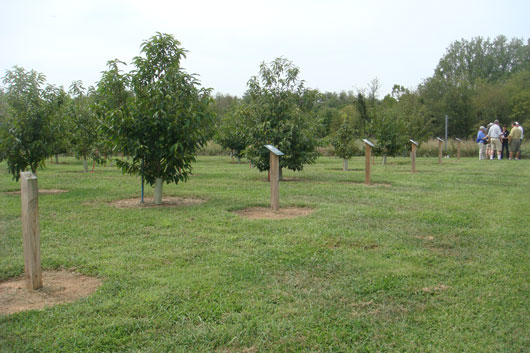 This orchard was founded in 2010, originally as a demonstration orchard, but is now being converted to a mother tree orchard
For a list of the plantings as of June 2016 click here.
Address:
20930 Lake Ridge Drive, Boyds, Montgomery Co.
Directions:
Starting from Rt 270 at Germantown, go north on Rt 27 for 1 mile toward Damascus. Turn left on Rt 355 and go 0.8 miles to a left turn on Old Baltimore Rd. Take Old Baltimore 1.5 miles to a left turn into Black Hill Park. Take Lake Ridge Drive 1 mile to a right turn on Black Hill Rd.  Continue over the causeway and past the Park Police Complex. The orchard is beyond a sign that says " authorized vehicles only" and in a field past a sharp turn in the road.  Note: See the Google map below.
Contacts:
Stan Fisher – Steward
Jen Scully, Park Naturalist, Black Hill Regional Park
Property owner:
Montgomery County Department of Parks
Plantings: