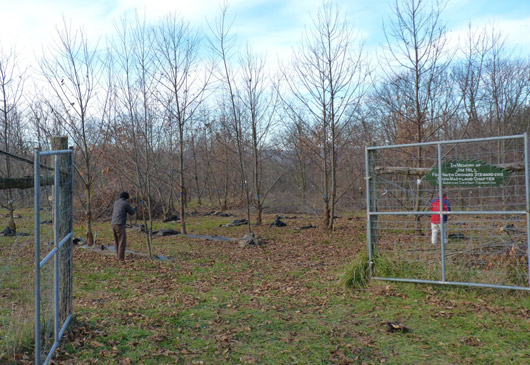 This orchard was inoculated and rouged in 2012 and 2013. The final culling was performed in 2015. Presently, 28 trees across 7 lines remain for open pollination and seed production. They are listed below. These remaining trees were selected for blight resistance and American chestnut characteristics (tall and straight). Seed from these trees have been planted in our seed orchard.
Address:
3630 Poffenberger Rd, Jefferson, MD 21755
(see map below)
Contacts:
Darryl Johnson- steward
Directions:
From intersection of I-270, I -70 and US 15 in Frederick, MD,  Take US 15 S/340 W toward Harpers Ferry and Charles Town. Stay on 340 when 15 exits to the left. Take next exit (Jefferson/Lander Road) and keep to
the right. At traffic light, take a left (on MD 180). Take a right onto Old Middletown Road. (This intersection is near the middle of the old town, and is easy to miss. If you get to Hemps and the bakery, you've gone too far.) In less than a mile, turn left onto Poffenberger Road. Poffenberger makes a sharp curve to the right. Turn into the next driveway on the right, and follow the driveway uphill and to the left. Park on the asphalt.
Yater11A – 35, 139, 335, 386, 444
HH – 102, 185, 283
T156 – 41, 424, 431, 497
SW901/805 – 29, 142, 435, 504
Knapp – 658, 696, 801, 894
WM47A – 662, 840, 891
Man41A – 714, 715, 734, 939, 942
An Excel spreadsheet map of the Fox Haven orchard is available for downloading here.
The original planting: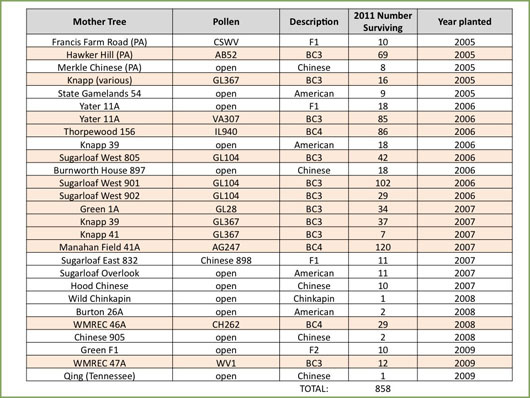 Location: