Rockville Orchard – Izaak Walton League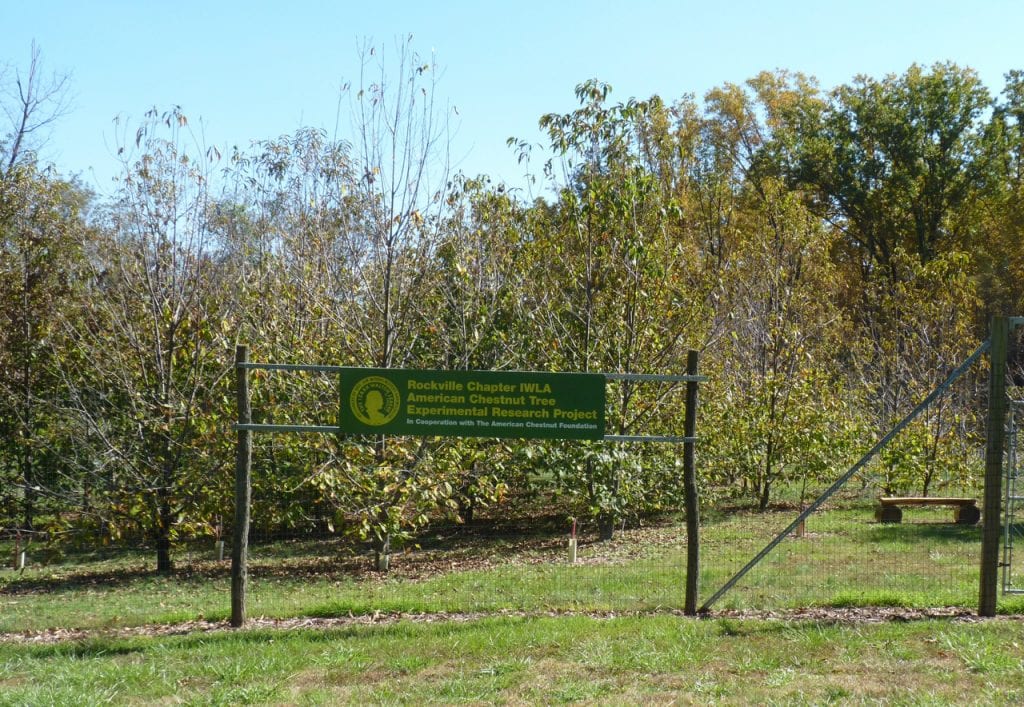 Founded in 2006 as the Maryland Chapter's first American chestnut Mother Tree Breeding orchard.
Address:
18301 Waring Station Rd. Germantown, Montgomery Co.
Directions:
From I-270 Exit 11, go west on Quince Orchard Road; turn right on Clopper Road (MD 117); turn right on Waring Station Road. Do not turn into the Izaak Walton League driveway but continue on approximately ¼ of a mile
further and look for an open field on the right with the orchard enclosure visible. If you get to the overpass over the railroad tracks, you have just gone past the orchard site. You may park on the shoulder of Waring Station Road or drive into the gate and park beside the orchard.
From I-270 Exit 13, go west on Middlebrook Road; turn left on Great Seneca Highway; turn left on Clopper Road (MD 117); turn left on Waring Station Road and proceed as above.
Contact: Ron Kuipers – steward
Plantings: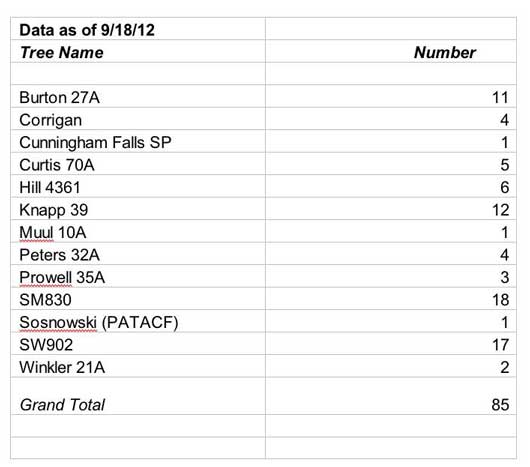 Location:
National Facebook
Join us December 15 from 11:30AM – 1:00PM (EPT), for TACF's next LIVE Chestnut Chat. TACF will share the latest updates about the status of the Darling transgenic American chestnut tree and new information since our last D58 Chestnut Chat in September. Panelists will present data, analyses, and frequently asked questions, then give participants an opportunity to ask their own questions. Visit the link in the comments below to learn more and sign up. ... See MoreSee Less



5 CommentsComment on Facebook
For those wondering, SUNY-ESF continues this work and is still refining it. To publicly pull their funding like this is disgusting. The level of unprofessional behavior in today's release is appalling! I'm moving my financial support to ESF.
I was just reading the the Darling 58 research will be discontinued.
EDIT As a member. I was pretty confused by what seemed to be a sudden abandonment of 1 of three 3 burrs in the plan, which was 3 burr. That's not the case, but one needs to dig DEEPLY into TACF's page to get an explanation as to why the decision is being made. See my other comment above. I'm not happy with how this was handled.
Deep, and I mean DEEP within TACF's "Darling58" performance page is an indication that they were not testing D58, but were testing a different line the whole time without knowing it: "In November 2023, through molecular analyses performed by partners at the University of New England and University of Maine, TACF learned that the OxO gene of all Darling 58 trees was on a different chromosome than expected (chromosome 4 instead of chromosome 7). Upon further and additional independent investigation, scientists confirmed that the trees they had been researching were in fact descendants of a different event in the Darling line in which the OxO gene had been inserted into a coding region, causing a deletion in a known gene. That research has also indicated that the homozygous state (when an individual plant inherits the OxO gene from both parents, which occurs in 25% of offspring) is lethal, and that a majority of homozygous offspring die in the embryonic stage." EDIT link to page :https://tacf.org/darling-58/ EDIT - The page mentions that "other better trees" are being focused on, reading even farther, it looks like TACF would like to focus on testing SUNY's "DarWIN" going forward, which has the oxo gene as wound inducible. Considering they would have to start testing all over again for D58, I guess it makes sense to just start with DarWIN. OPINION: It would have been better to say "whoops" and acknowledge that they were testing the wrong thing as the FIRST point in the conversation, then point to reduced growth of D58 in some trials possibly due to constant expression of oxo, and finally state that they were going forward with some of SUNY's most advanced trees since they might as well. The presentation should have come from a place of acknowledging how stuff was screwed up and continuing support of other transgene lines. Instead it comes across as abandonment. You have to go very VERY deep and make a little inference to get a solid grasp on what the situation is, and you shouldn't have to.
Load more