WMREC Orchard – Western Maryland Research and Education Center, University of Maryland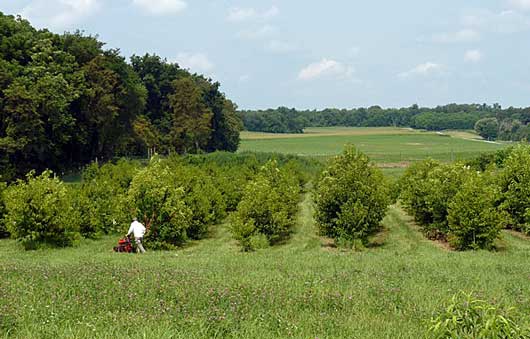 This orchard was founded in 2007 as a backcross breeding orchard. The orchard was rogued in 2016 and 2017.  A total of 17 of the best trees in 5 family lines were saved.  They will cross-pollinate in 2018 to produce B3F2 and B4F2 nuts for our seed orchards.
Address:
18330 Keedysville Rd. Keedysville, Washington Co.
Directions:
From Frederick take US 70 west to exit 49 to Alt Rt. 40 West thru Middletown to Boonsboro.  In the center of Boonsboro turn left at the stoplight onto Rt 34 west.  Travel for 3.5 miles, turn right on Keedysville Road.  Travel on Keedysville Rd for 2.4 miles (bear right after second stone bridge).  Turn right into WMREC at the entrance sign.  Turn right at the first interior road Turn right into the field after passing the deer fence gate.  The chestnut orchard is about 200 yards from the road and behind an apple orchard.
Contacts:
John Fleagle – Steward
Doug Price – WMREC staff
Remaining Trees:
Manahan 42A & 43A x AG247 –  2 of original 98
SE 831 x HE 416  – 3 of original 95
SE 51A x ME 536  – 0 of original 118
WMREC 47A x WV1  – 3 of original 71
WMREC 46 A x CH262 –  9 of original 92
Source of resistance:
Clapper
Location: